Hi there Folks!
Thank you for your interest in TOP DOPICO'S BBQ DONUT. Here I'd like to share with you a bit of my story and how my project came to life!
In fact, the whole project began during a google research back in 2013, when I learned at first the existence of the BBQ DONUTS.
As I'm the owner of a ventilation company for several years now, I wished to verify if there was, at that time, an antipollution system for Quebec's BBQ to improve my own system that I already invented. So that's when I came across a linked image of a BBQ DONUT that caught my attention.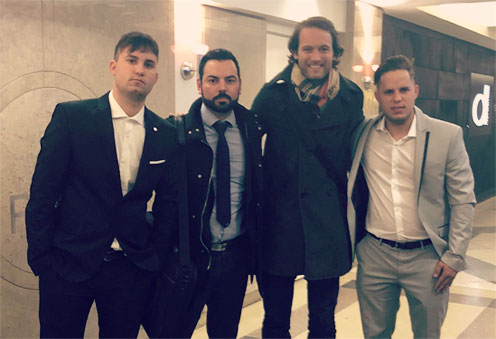 A passionate of boats (I have my own boat) and of BBQ, when I saw that advertising I couldn't take out that image of my head and I said to myself who else better than me to import this brilliant idea to Quebec!
So I began doing deeper research and that's when I noticed that the BBQ donuts were initially designed in Germany in 2007 and the image I first came across was actually taken in Dubai; Today you can find BBQ Donuts in over 60 countries and almost on all continents and that number continues growing each year. This only proves that the idea of reuniting 9-10 people around a floating BBQ on the water was truly genius
Four years later, after completing several steps, TOP DOPICO'S BBQ DONUT has finally arisen in 2017 and is now operating in 2 different locations in Québec which are Boucherville and Pointe-Calumet. My passion for this project was so inspiring that two of my cousins, specializing in tourism and hotel industry, believed in it as much as I did and decided to move all the way from Spain to United States in order to operate TOP DOPICO'S BBQ DONUT other location points located in Florida.
Already for summer 2019 we are thinking into expanding in other locations throughout Québec as well asin Eastern Canada and United States!! Get ready folks, this is only a beginning!
I'd like to thank you for supporting TOP DOPICO'S BBQ DONUT and wish you all an amazing time on the water amongst your loved ones!
Have Fun!
Rancel Aguila Dopico
President
Reservation